Chess Free
3.02
Free Chess – Play Chess Anywhere on Your Phone
If chess is your favorite game and you want to play it on your phone then you will find this free chess game to your liking. Chess Free is a nice game which lets you play the game of chess on your phone on the go and try to beat the computer. It allows you to test how good you are at playing chess. You can set the level of difficulty as per your choice and then see if you can outwit the computer. It won't be easy, though. The computer can plan the moves in advance and anticipate what moves you are going to make. However, if you play smart then you do have a chance to win. You can compete with online players in this game too.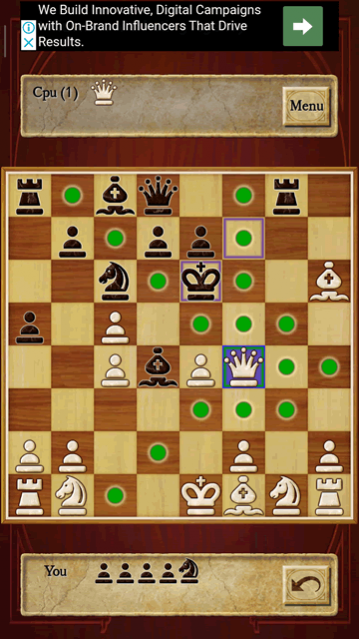 Chess Free combines slick gameplay with beautiful graphics to provide a satisfying gaming experience to you. The background music helps in setting the mood for playing the game while the controls are very user-friendly. This free chess game is geared towards both new and experienced players. For the new players, there is a tutor feature available which can guide them during the game. Moreover, there is a separate section provided for the rules of the game as well. You can find the link to this section at the bottom of the home screen. On the other hand, for the experienced players, this game offers lots of customization options. You can use them to create a challenging game with handicaps as well as move and game timers.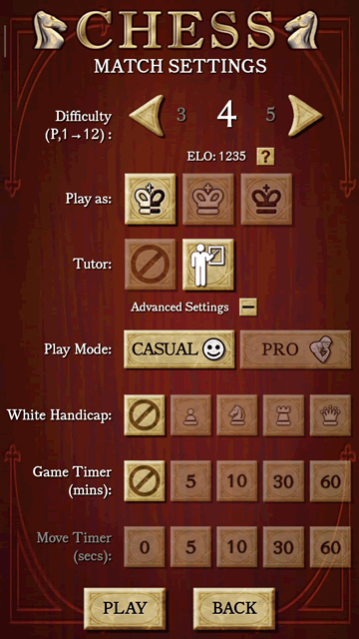 This free chess game offers multiple game modes to you. You have a single-player mode in which you get to play against the computer. There are multiple difficulty levels available in this game mode which range from 1 to 12. You can also select the mode of the play according to your playing experience. There are two choices available in this regard. The first one is 'Casual' while the second one is 'Pro'. Chess Free has two different multiplayer modes in store for you too. There is a local multiplayer mode in which you can play against another player on the same device. You can enjoy the single-player and the local multiplayer modes even if you don't have access to an internet connection.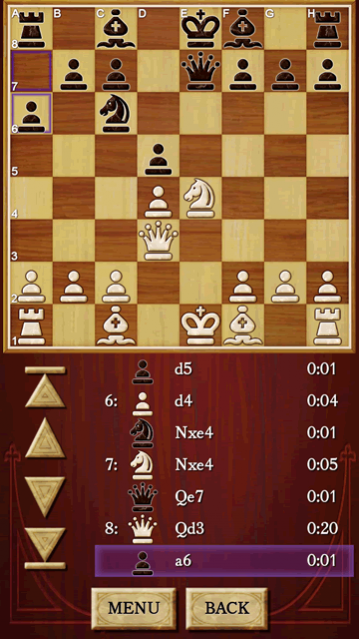 Chess Free has an online multiplayer mode to offer you too. There are two ways of playing this game mode. You can either enter into a quick game or find an online player to compete against. Before you can play this game mode, you need to sign-in to your Google account. Moreover, you need to have a working internet connection as well to play the online multiplayer mode. During the course of a game, you can sit back and review the game from the beginning. The option for this feature can be found in the drop-down menu that appears upon clicking the options icon located at the top-right corner of the screen.
Features:
Multiple game modes
Single-player and multiplayer modes available
Defeat the computer in offline mode
12 levels of difficulty to choose from
Local multiplayer for competing against another player on the same device
Compete with online players in the Online multiplayer mode
Get instantly matched by playing a Quick game
Tutor feature to guide the new players
Learn about the rules of the game
Option available to review the game while playing
Lots of different customization options to choose from
Various achievements to complete
Conclusion:
Chess Free is a gaming app which is marketed towards people who love playing chess. It provides them the opportunity to enhance their skills as a chess player by competing against a computer, their friends and even random online players from all over the world. It is a free chess game worth having on your phone.
---
Add a review
Tell us your experience with
Chess Free
3.02
RELATED PROGRAMS
Our Recommendations
---
---
---
---